TRIBUTES have been paid to the Bishop of Exeter in a moving farewell service at Exeter Cathedral.
The Rt Rev Robert Atwell is retiring at the end of September after nearly a decade leading the Church of England in Devon.
Devon's Lord Lieutenant, David Fursdon, thanked Bishop Robert for his presence during the Covid pandemic and the deaths of the Duke of Edinburgh and the Queen, as well as the Coronation of the King.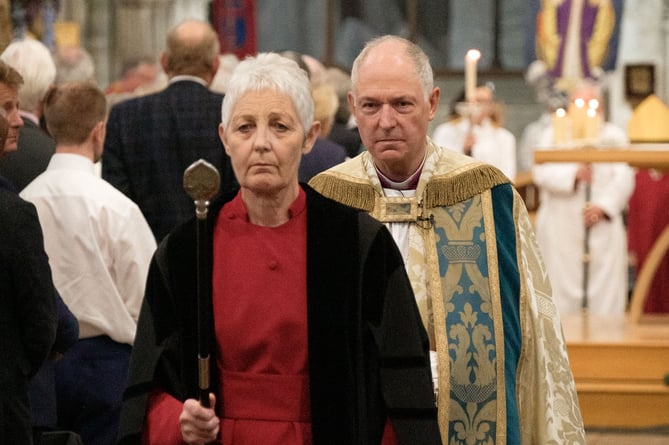 Bishop Robert being led down the nave at Exeter Cathedral.
(Matt Prior)
He said: "You were key to all those occasions. Thank you for your leadership and thank you for being you. Farewell."
Rev Mike Partridge, who represents clergy in Devon, said: "You have been our shepherd."
He particularly thanked the bishop for his regular online presence during the pandemic. 
Speaking with emotion, the Bishop of Credition, the Rt Rev Jackie Searle, said: "We thank you with all our hearts for being the Bishop of Exeter and for all the fruitfulness of the last nine years, and all that God has done through you. We will miss you."
Exeter Cathedral was packed for the farewell service, which featured hymns and readings chosen by Bishop Robert.
Addressing the congregation for his final sermon as Bishop of Exeter, he said: "The time has come to lay down my crozier and pass the baton of leadership on to whomever the Lord calls to be the 72nd Bishop of Exeter.
"I do so with thanksgiving for all that you have taught me about being a Christian."
Later in the service came the moment when the bishop removed his mitre and knelt in prayer before the altar, before handing the Diocesan Crozier back to the Dean of Exeter Cathedral for safekeeping for the next bishop.
The Dean, the Very Rev Jonathan Greener, said: "We thank you for keeping watch over the flock of which God appointed you shepherd and pray for you as you journey on."
The bishop then made a solitary walk down the Cathedral nave, as is traditional.
He said he had been told that his was: "One of the best jobs in the Church of England."
"And so it has proved to be," he added.
The Bishop of Crediton will be the Acting Bishop of Exeter from October 1. 
The appointment process to find the 72nd Bishop of Exeter is expected to take about a year.