Town gives a Safe Haven to our Ukrainian guests
Monday 13th June 2022 8:00 am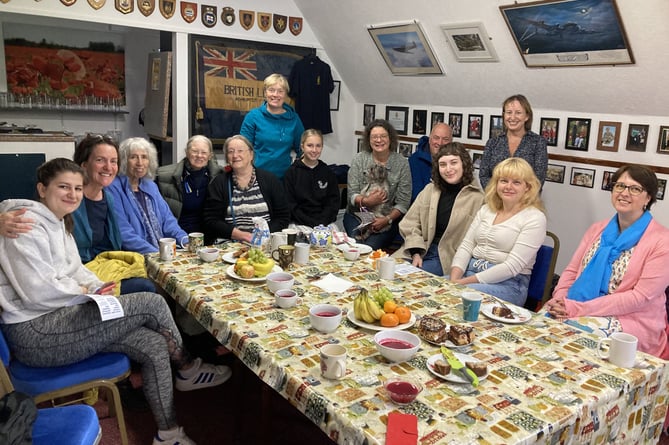 SAFELY IN ASBURTON: Ukrainian guests can meet up at the Ashburton Safe Haven. Pictured are Ukrainian guests, hosts and volunteers.
()
Subscribe newsletter
Subscribe to our email and get updates right in your inbox.
A SAFE Haven for guests from Ukraine has been created by people of the moorland town of Ashburton.
Ashburton is one of a number of communities across Teignbridge welcoming Ukrainian people fleeing the war in their homeland.
A growing group of locals from the town and surrounding moorland have already set up a support network for host residents and their Ukrainian guests.
Local resident and host to a Ukrainian family of three, Sarah MacAlpine, came up with the idea of a support network to help other potential hosts navigate the process of linking with Ukrainians seeking a safe haven in the local area.
She said: 'It's not been an easy process so it made sense to reach out to others in the same situation wanting to offer sponsorship to Ukrainians.
'We're all so keen to help but have encountered numerous challenging hurdles along the way.
'Since starting the group, which we've named Ashburton Safe Haven, it's been amazing to see the enthusiasm and generosity of those wanting to help.'
There are now more than 50 local residents who have come forward to offer help to Ukrainian people arriving in the area.
In addition to those hosting refugees, a number of people have proposed other forms of support.
On Wednesday mornings, Ukrainian guests can access a safe space in the town centre to meet fellow Ukrainians and locals over free refreshments, thanks to a team of volunteers, and funding from the local League of Friends and the Royal British Legion.
Other residents have volunteered to transport guests to appointments, help with form-filling or to simply provide some respite to the hosts.
With the assistance of Ways with Words' festival managing director, Leah Varnell, the network has also set up English lessons both for adults and children.
Lessons for adults and teenagers are on Monday evenings at Ashburton Arts and lessons for primary school-aged children are taking place on Wednesday afternoons at 4.30-5.30pm at Ashburton Primary School.
In addition, Ashburton Safe Haven is working to donate £50 to each Ukrainian child in full time education being hosted in their Ashburton and Moorland area.
These funds will be spent on essential items such as clothes and school uniform. However, this offer is only available while funding lasts so new donations are very gratefully received by the group.
For more information on the group or to donate to their children's fund, visit www.ashburtonsafehaven.org or their FaceBook group Ashburton Ukrainian Refugee Support Group, or email [email protected] or write to Ashburton Safe Haven c/o Town Clerk, Town Hall, North Street, Ashburton, Devon TQ13 7QQ.
Comments
To leave a comment you need to create an account. |
All comments 0