RNLI pays specialtribute to Barrie
Tuesday 26th April 2022 4:00 pm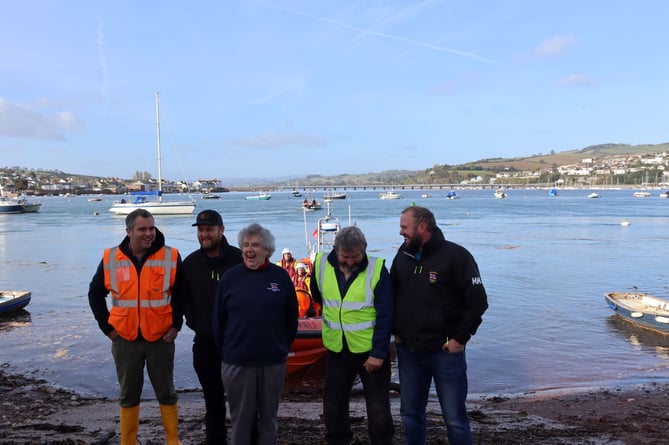 TOP RIGHT: Barrie Behenna outside of the Boathouse RNLI Teignmouth. ABOVE: Teignmouth RNLI team: From left are Matt Slader, James Stoyle, Barrie Behenna, Charlie Woolnough, Simon Dorey from RNLI Teignmouth.
Subscribe newsletter
Subscribe to our email and get updates right in your inbox.
A HEARTFELT tribute has been paid to an RNLI Teignmouth stalwart and gentleman
A chilly, breezy day saw a large gathering of Teignmouth volunteer Lifeboat crew and fundraising volunteers to say a fond farewell, and to celebrate the life of (Richard) Barrie Behenna, in St Peter's Chapel, at the Exeter and Devon Crematorium.
Barrie had passed away suddenly and unexpectedly on Thursday, March 10.
Barrie and his wife, Margaret, had been a passionate supporter of the RNLI in Teignmouth for 15 years.
In October 2021, he received an RNLI award for his service, including during the many months of the pandemic.
The citation read that he had 'remained an enthusiastic and determined leader who fully embodies the RNLI core values of being courageous, selfless and dependable.'
Barrie at that time, recounted that his earliest memories of the RNLI were as a very young boy seeing the Ilfracombe Lifeboat in its then shed on the Quay, followed soon after by learning of the tragic loss of the Mumbles Lifeboat and all her crew.
It was at that point that the magnitude of the institution and the people who were part of it impressed him immeasurably.
When Barrie moved to Teignmouth in 1975, he had his own little yacht, and he spent many happy hours coastal sailing off the Devon shores, but the RNLI was ever present, and he decided to become a member of the RNLI.
The yacht was sold, and another maritime interest beckoned, initially as a youth speaker, and initiator of the Lifeboat House Visitor Scheme.
Committee work followed, as secretary of the Teignmouth RNLI Fundraising Team, a post he held for 14 years before becoming its chair.
Two years on, the pandemic had struck, a lot of things had changed, and a new and younger membership was blossoming, highly necessary if the Fundraising Team was to reach the previous heights of raising over £100,000 a year of income!
A combination of circumstances happily coincided, so that on leaving the chairmanship to a younger volunteer, Barrie was appointed by the RNLI to be the Lifeboat Management Group Chair.
Barrie carried out this role with his usual diligence for over a year, during which he worked with the Lifeboat Station team, and got to know most of the crew.
Barrie said when given the award: 'My admiration is not a bit diminished since my experiences all those years ago.
'This unexpected award marks a high point in my RNLI career, but I am a tiny cog in a very big wheel.'
Barrie's knowledge and dedication to raising money to support the RNLI in Teignmouth is truly admired by all who knew and worked alongside him.
His cheerfulness, support and friendship will be sorely missed by everyone who had the privilege and pleasure of knowing him.
Aside from his work with the RNLI, Barrie held a number of voluntary roles with the NHS in the South West for over 30 years.
Initially Barrie was appointed non-executive director of Torbay Hospital in 1981, and served continuously until 1992, eventually becoming vice-chairman, after which time he served on the newly formed South and West Devon Health Authority.
At various times he served on the former Family Practitioner Committee, the South Devon Partnership Trust and the Primary Care Joint Commissioning Committee.
He was South Western Regional Chairman of the Multi-Centre Medical Research Ethics Committee.
At the time of his death, he was, and had also been for a number of years, chair of the NHS Devon CCG's Coastal Locality Engagement Group.
The service celebrating his life, was as bright and cheerful as he was.
As we passed his beautiful wicker coffin on the way out, whilst a recording of Hallelujah was played by 18-year old Siana Rouse from one of Barrie's favourite bands – the Lanner and District Silver Band, a shaft of sunlight came through from the top window of the crematorium lighting the way.
Another favourite band of Barrie's was Teignmouth's own Back Beach Boyz, who themselves are regular supporters of the RNLI, and who Barrie loved to listen to, whenever the opportunity arose.
Afterwards, his daughter, Katherine, said: 'He was proudly Cornish, from a sea-faring family generations back, and loved and respected the sea all his life.
'It's his wish to have his ashes scattered on the sea from the lifeboat and we'll be doing that during a practice session one Sunday'.
At the service Charlie Woolnough, the Teignmouth Lifeboat operations manager gave a fitting tribute on behalf of the RNLI, ending with the words, first in Latin and then translated to 'a gentle breeze and a calm sea, goodbye my friend'.
All of us at Teignmouth RNLI would wholeheartedly endorse that sentiment.
l If you would like to donate to the RNLI at Teignmouth in memory of Barrie, please go to https://www.justgiving.com/fundraising/barriebehenna