£1k rent hike puts life saving club's future in doubt
Tuesday 19th April 2022 9:00 am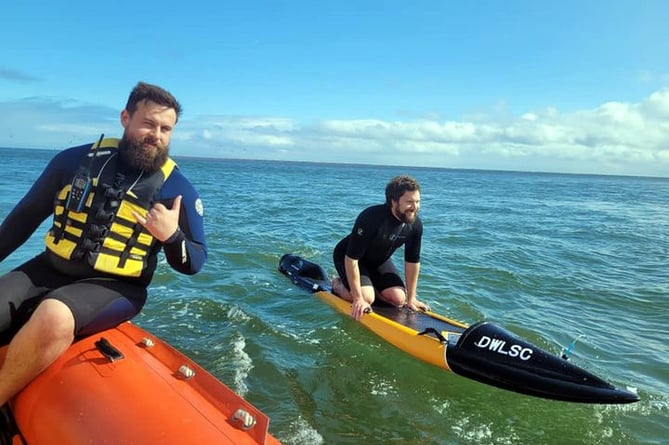 Members test their new prototype humpback power rescue board.
Subscribe newsletter
Subscribe to our email and get updates right in your inbox.
LIFESAVERS at Dawlish Warren are facing an increased bill of £1,000 to run their operation.
Without further financial support through donations, Dawlish Warren Lifesaving Club says it 'will not survive'.
Formed in 1966, the club runs as a registered charity but the last year proved difficult for fund raising.
The volunteers were unable to perform their usual lifesaving displays throughout the summer to raise funds.
Now Teignbridge Council, which owns the land but not the premises they operate from, has renegotiated their lease.
Set up more than 15 years ago, the original lease offset the cost in return for the club's lifeguard patrolling the beach for 500 hours.
Now there has been a renegotiation where the rent allocation for the land by standardising similar leases.
This means the club faces having to pay the shortfall.
Club spokesman Alex Lovell said: 'For a business, this is not a massive amount of money but for a charity this is a horrendous hit.
'We can get grants for equipment but not for running costs such as electric and water.'
The club gets on average £1,500 from donations but with the increasing rent costs, there is nothing left in the kitty. With the extra £1,000 to pay, it is possible the club will become unsustainable.
Alex said the club had been 'forced' to sign the new lease even though they argued it was not sustainable.
He said: 'Any money we do have is to help our longevity so we can't spend that on running costs otherwise we will shorten our lifespan.'
The club has launched a fund raising campaign asking for sponsorship of £1 a month which would cover the shortfall.
Alex said: 'It's going OK so far.'
But he warned: 'If money runs out, we will have to shut up shop.
'I know most charities are in similar circumstances and what is frustrating is Teignbridge seem to treat charities with contempt.'
A spokesman for Teignbridge Council said: 'The lifesaving club signed a new lease in December 2020 and since February 2021 have been paying the annual £1,000 rent.
'Prior to signing the lease in December 2020, the club had a service level agreement which reduced the rent paid in return for undertaking weekend lifesaving patrols at the beach.'
Dawlish Warren beach is covered by RNLI lifeguards but only at peak times, during the summer holidays and weekends
Dawlish Warren Surf Livesaving Club patrols cover the hours when the RNLI team are not in there.
Alex added that the club's main benefit is that it has its own rescue boat operating from the Warren.
He also pointed out that many rescues are at weekends when the RNLI lifeguards are not there and that the 'vast majority' of RNLI lifeguards are often trained by lifesaving clubs.
Dawlish Warren Surf Lifesaving Club is one of the oldest in the south west, affiliated to the Royal Lifesaving Society.
It teaches youngsters after seven to 16 in basic open water skills, and teaches over 16s advanced skills and first aid needed to undertake internationall recognised lifeguard qualifications. The fund raising campaign is asking for £1 a month, of which 100 per cent of donations go into running the club, providing essential equipment and training.
To donate: there is a PayPal link via Dawlish Warren Lifesaving Club.