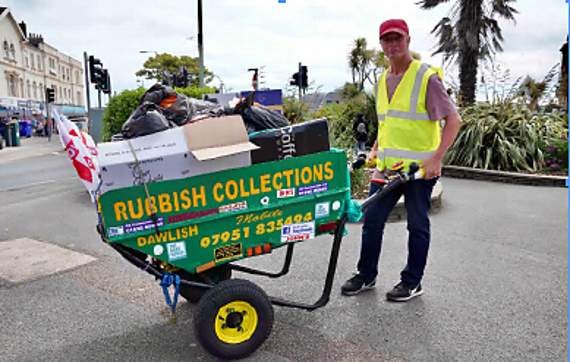 Michael Butterfield and barrow
()
Subscribe newsletter
Subscribe to our email and get updates right in your inbox.
IF EVER there was a local hero, then it must be Michael Butterfield.
Michael, 52, lives in Dawlish Warren and has been quite literally cleaning up there and down the coast in Dawlish.
He's a familiar sight to locals who see him with his barrow round and about the two resorts.
'He's well known by everyone,' said one local.
He makes a living collecting unwanted items from houses and amazingly pushing his barrow to the Marsh Barton recycling centre in Exeter – a near 24-mile round trip.
It seems no item is too big to push there.
Michael explained: 'I've taken fridges, dishwashers and washing machines, It doesn't take me long to get there and back!'
He's a busy man, making the trip four times a week, and starts his working day at 4am throughout the year, often not finishing until 8pm.
His community spirit shines through as while he is walking the streets of Dawlish and Dawlish Warren he cleans them up, picking up litter and rubbish he finds.
He even cleans the beaches each morning to ensure they are pristine for holidaymakers, all without payment, but receiving plenty of praise.
Dawlish mayor Cllr Val Mawhood said: 'Michael's a familiar sight in Dawlish. I've seen him many times pushing his barrow to Exeter in all weathers.
'It's always good to see people like Michael doing such kind work and displaying a real community spirit.'
Before Michael moved down from London on the 1980s he worked on landfill sites in the capital, but wouldn't go back now.
'I've made my home here,' he said. 'I enjoy karaoke nights at Golden Sands and my lunches at the Landsdowne.'