Fresh funding for rail resilience project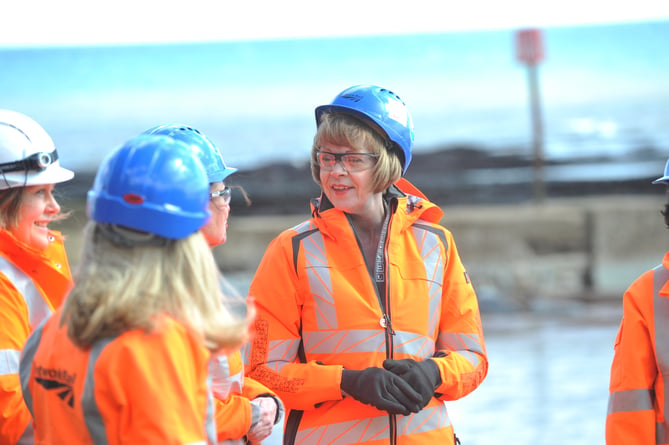 Rail Minister Wendy Morton talking to Network Rail staff in Dawlish today.
(Steve Pope/MDA )
Subscribe newsletter
Subscribe to our email and get updates right in your inbox.
TENS of millions more pounds will be pumped into the rail resilience project between Dawlish and Teignmouth, it was announced today.
A further £32 million has been allocated for the installation of netting and fencing – designed to prevent landslips – between Dawlish and Holcombe.
Work is due to begin in the Autumn, when Phase Two of the project near Dawlish Station is set to complete. It will take between 12 and 14 months.
This latest round of funding, which follows on from three earlier phases of work and takes the bill to more than £150m, will prevent storm debris reaching the railway, according to Network Rail.
Phase one was successfully completed in 2020, a new sea wall along Marine Parade between Kennaway Tunnel and the Colonnades.
Phase Two is currently in progress and due to finish by September, while construction for Phase Three – a rockfall shelter between two of the tunnels – is also underway.
The fifth and final phase is still in development. These works will focus on a mile-long section of route, sandwiched between high cliffs and the sea between Holcombe and Teignmouth. Network Rail is continuing to develop options for this section of the route.
Francis McGarry, Network Rail's investment director, explained: 'The cliffs are not in great condition.
'They hold a lot of water throughout the year, and as the water swells it actually allows material to fall off.
'The funding released today will allow us to go in and do a number of different types of intervention – things such as netting and sheltered areas whereby material can fall off and not impact on rail services.
'But it's a hugely complicated structure. We'll have to use people on ropes and very specialist equipment to make sure we can deliver the outputs that we need.
'And it's all about logistics. A lot of the costs of these jobs come down to that, and this isn't a construction environment where we can just build when we want to. We have to take into account the tides and the operation of the railway.'
This is will also be one of the least visually impactful parts of the entire rail resilience project, with McGarry adding: 'In terms of the actual geographical features it won't be that different.
'There will be some netting on there, but generally there won't be a big visual impact on the area itself.
'It doesn't affect the railway, or anything to do with the beach or the sea wall, but those areas on the cliffs which are likely to cause a problem.'
Rail Minister Wendy Morton was in Dawlish today to announce the funding. As part of her visit, she was also given a whistle-stop tour of the new sea wall.
'I've been really impressed by what I've seen today,' Morton said. 'I've met with the contractors, I've met with Network Rail and I've seen the scale of the work which has been undertaken.
'The other thing that really struck me was when we were by the station and some people shouted across and said thank you to the contractors.
'They were pleased with the work which is going on, which I thought was really important. With any big project it's important that you take the local community with you.
'I think that indicates the amount of local engagement there has been and continues to be.'
And she added: 'I've been on this line before, so I know how beautiful this coastline is. The scale of the work being undertaken here, and the complexity of it as well.
'They're working with not just the elements of the sea, but the cliffs as well – and making sure that in doing that work there is still connectivity of the railway and that we maintain the livelihoods of the people down here.
'I think we've made a big commitment here and it was the right commitment to make.'
Comments
To leave a comment you need to create an account. |
All comments 0