End of season night at holiday park raises cash for Starcross charity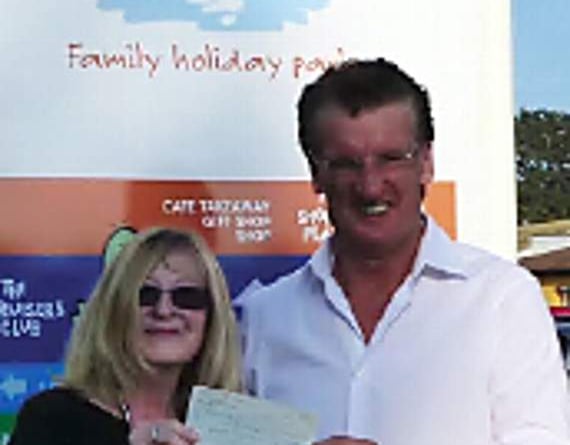 CHARITY CHEQUE: Sally Chatham, Westbank community support coordinator and Mark Price-Haldon, entertainment manager at the Welcome Family Holiday Park, Dawlish.
()
Subscribe newsletter
Subscribe to our email and get updates right in your inbox.
HOLIDAYMAKERS at the Welcome Family Holiday Park in Dawlish Warren raised a whopping £2,070 at their end-of-season charity evening for local charity Westbank.
The money raised will benefit the local community in Starcross, with activities such as a cream tea, ukulele sessions, social activities and exercise classes already being planned over the coming weeks.
Mark Price Holden, entertainment director at Welcome Holiday Park, said: 'Sometimes you just meet a group of people who are simply doing good things in the community.
'I was looking for a local charity to give this money to and stumbled upon the great and tireless work the team were doing at Westbank.
'At the Welcome Holiday Park we give a little for charity every year, and I could not think of better people to do this for; keep up the good work Westbank, as it's more of this spirit we need to help people who are in need.'
Sally Chatham, Westbank Community Support Coordinator, said: 'We are very grateful to the holidaymakers and team at Welcome Family Holiday Park who raised this money for the community in Starcross.
'This generous donation will enable us to deliver a range of groups and activities aimed at all ages in Starcross.
'Our immediate focus will be on bringing people together who have become isolated and lonely during the pandemic, allowing them to meet, talk, participate in an activity and enjoy a nice cuppa and cake.
'Thanks to everyone who has made this possible.'