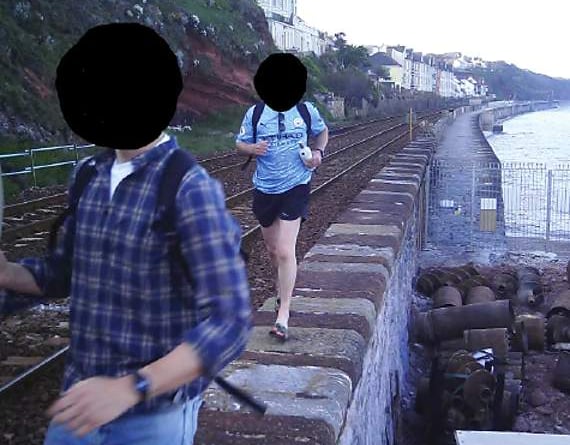 Subscribe newsletter
Subscribe to our email and get updates right in your inbox.
DESPITE repeated warnings from British Transport Police, people are continuing to trespass on the railway line at Dawlish, prompting grim predictions of a tragedy in the making.
British Transport Police (BTP) and Network Rail have issued a stark warning after several recent incidents of trespass on the railway line in Dawlish, and a spike in people using the line as walking route .
While Network Rail completes work on the new sea wall which runs alongside the railway, the footpath has been closed and a safe, temporary route has been put in place between Dawlish and Dawlish Warren station.
Alison Kramer, Community Safety Manager for Network Rail's Western route, said: 'During the half term holidays at the end of May, Network Rail staff spent the week on the sea wall talking to visitors about the work, explaining the diversion route and providing everyone with maps, so I am appalled that this type of reckless behaviour is still happening.
'The diversion adds a few minutes onto the time it takes to walk between Dawlish and Dawlish Warren, is it really worth risking yours and other people's lives for the sake of a few minutes?
'The diversion route is there to ensure the safe running of the railway and we urge everyone to observe it. I encourage anyone who may witness acts of illegal trespassing to report it the British Transport Police.'
However, since the footpath has been temporarily closed several incidents of people climbing on the wall and walking alongside the railway, where trains on the line can travel up to 75mph, have been reported.
The month of May saw an increase in reports, with 18 incidents occurring on the line and multiple people caught on camera in recent weeks.
In one instance, a person climbed on to the railway line with a dog, that wasn't on a lead, causing a train to make an emergency stop.
Other instances have seen people injuring themselves by falling from the wall and needing assistance to get off the tracks.
These latest incidents follow similar instances of trespassing on the railway at Dawlish in April.
BTP and Network Rail have renewed their appeal, urging people to stay off the tracks and stick to the designated temporary route.  
Trespass is illegal, and people could face up to £1,000 fine and be left with a criminal record.
Embedded Inspector Darren Burridge from British Transport Police said: 'We see hundreds of people taking risks on and around the railway every year, resulting in tragic consequences or life-changing injuries. Both outcomes are avoidable.
'Our network of uniformed and plain-clothed police officers, and over 150,000 CCTV cameras, monitor the railway 24/7 – we will actively pursue and take positive action against those who fail to comply with the simple instruction not to trespass.'
Anyone who spots someone trespassing is asked to contact BTP by texting 61016 or calling 0800 40 50 40. Always ring 999 in an emergency.
BTP and Network Rail run a hard-hitting safety campaign, You Vs Train, which highlights the devastating consequences that trespassing on the railway can have. Find out more at youvstrain.co.uk