SIXTY years after first starting at the old Newton Abbot Grammar School a group of vintage ex-pupils recently spent an evening at the Ten Tors Inn in Kingsteignton reminiscing about their days together in the swinging 1960s.
Former pupil Johnny Glover, who now lives in Germany, organised the 60-year reunion for the entire 1962 intake for the event, which was held on June 20.
It was held in a function room at the inn and rigged out with a PA sound system including Bluetooth speakers, projector and screen for video links; a large selection of musical hits from the 1960s, including the top twenty from October 1962, were played.
Johnny compiled at 20 minute Powerpoint presentation marking out the important topics and milestones of the time including new inventions, important events and more that took place in 1962.
During the evening Johnny set up a video link with several ex-pupils who were unable to attend, one of which had to get up rather early as she lives in Queensland, Australia.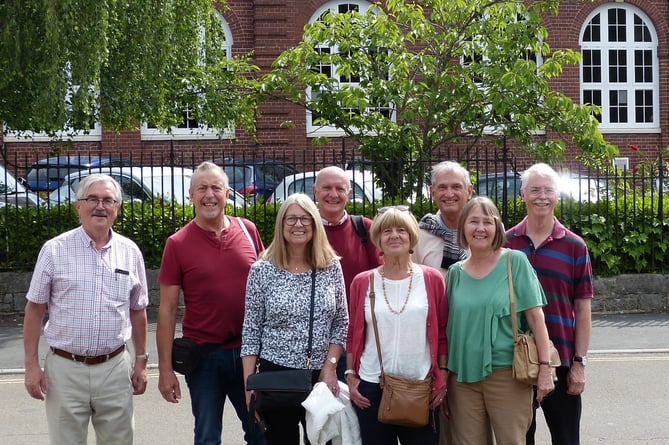 The following day was filled with a visit to the old school and a guided tour provided by one of the administration staff.
'We were shown round the original school building from 1915 where most of us spent the last years of our stay at the school; we certainly went down memory lane that day' Johnny said.
'The old gymnasium is now a study centre on two levels and the old assembly hall has been converted into a large class room.
'Most of the school's buildings were built since we left the school and it's hard to recognise the places where we had our classes.'
To round out the visit, the cohort spent time sifting through archival material: photo albums documenting near enough the complete history of major school events from 1957 to 1967 were an especially welcomed find.
Of the reunion, Johnny said: 'It was great fun, interesting and so lovely to see some of my old class mates again.
'If we can get another reunion together or not is questionable, we have all reached the stage in our lives where our age can start to work against us and even hinder our travel plans.'