Cake bake has the ?right ingredients for lifesaving funds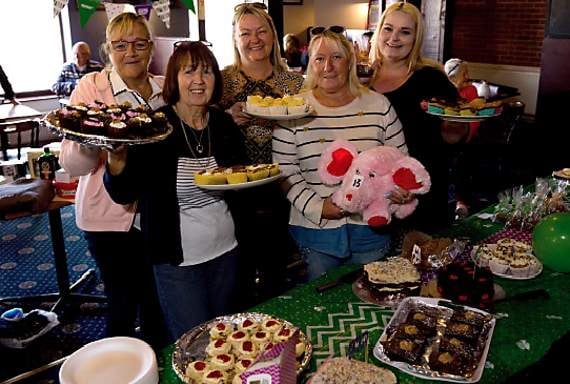 SLICE OF SUCCESS: The cake bake at Lee's Bar helped buy lifesaving equipment. Photo: Mike Alsford
()
Subscribe newsletter
Subscribe to our email and get updates right in your inbox.
A MOUTH-watering cake bake raffle has funded a new defibrillator for the centre of Dawlish Warren.
It was organised by Lee's Bar landlady Gloria Rackley after one of her regulars, Graham Lineton, almost died outside.
'He just collapsed on the pavement. Luckily for him a doctor and a nurse were passing nearby and quickly began massaging his heart,' said Gloria.
'But they needed a defibrillator to really kick-start it. The nearest was down by the beach and for some reason that box couldn't be opened.
'Finally someone ran up the steep hill out of the village to bring one down from the Mount Pleasant Inn. But it all took time
'Thank God it wasn't too long, but it was very much touch and go.
'This got me thinking afterwards that we really needed a machine down here too .
'It's right in the centre where thousands of holidaymakers from the caravan parks are funnelled under the railway on their way to the beach.
'So about eight of us got together and came up with a tasty raffle idea – and then started days of baking for a new machine.
'The cakes and sponges were a lovely addition to our usual prizes and we were amazed at the response.
'When word got round about what it was for local businesses chipped in very generously and so did our regulars.
'It was a real community effort. We raised £1,263 and money is still coming in.
'There's enough for a new machine and the Dawlish Pharmacy, just across the road, has agreed to position it outside.
'We also staged our annual Macmillan Nurses appeal at the same time which raised an additional £557 for them, so that was nice too.
'I owe my life to that little machine,' added HGV driver Graham, the man saved by the defibrillator.
'Together with the people who worked on me it brought me back from the dead. I can't thank them enough.
'I still have bad dreams about lying there on the ground thinking I was going to die.
'I know how lucky I am to be here.
'Gloria has done brilliantly to raise funds to put a new one down here near the bar where it could save someone else's life.'