RISK of asbestos at a building fire saw Newton Abbot Fire Station's Environmental Protection Unit (EPU) mobilised on Wednesday, September 13.
The EPU, as well as one appliance from Newton Abbot, three appliances from other stations and a water bowser, were called to reports of a building fire in the Yealmpton area.
The EPU was mobilised to assist with decontamination.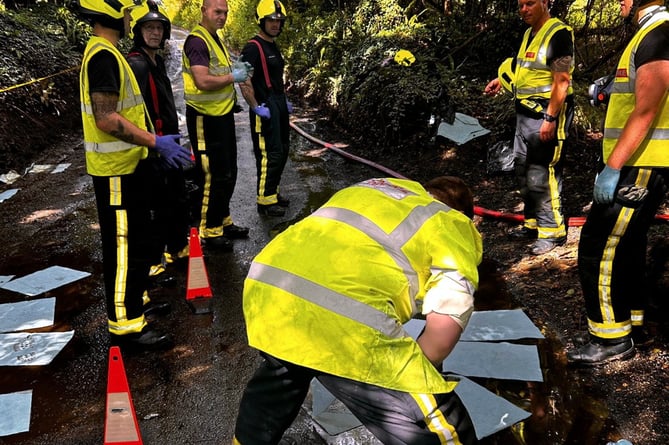 (Photo by Newton Abbot Fire Station)
A large oil tank had also ruptured as a result of the incident, causing a large quantity of oil to cascade down a local road.
Once the crews wearing Breathing Apparatus (BA) had extinguished the fire using multiple jets, attention turned to decontaminating them safely.
The initial decontamination method was set up to deal with the asbestos risk.
'This effectively requires us to wash each other off with a fine spray from our hoses, then containing that water runoff for specialist disposal' a spokesman for Newton Abbot Fire Station said.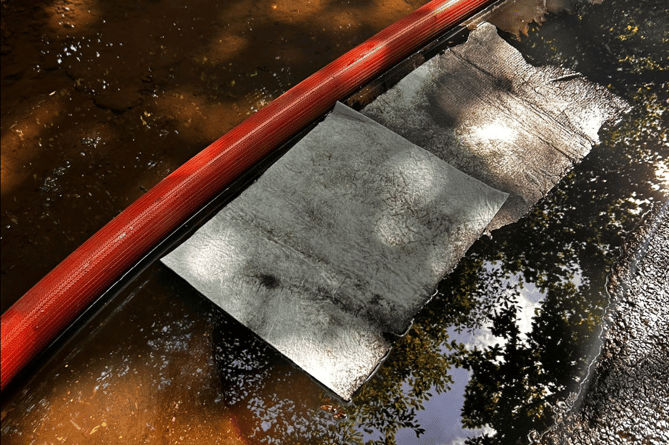 Other EPU crew members also created dams using our oil absorbant booms to contain as much of the spilt oil as possible.
Once contained, they then used oil absorbant pads to absorb as much of the oil as possible ready for disposal.
'All crews worked well with one another and all of the firefighters were decontaminated safely' the spokesman added.
The environment was also considered by all crews in attendance and the local environment was protected to the best of the crews ability.