Trotters stage ultra running 'cult classic'
Saturday 18th June 2022 9:30 am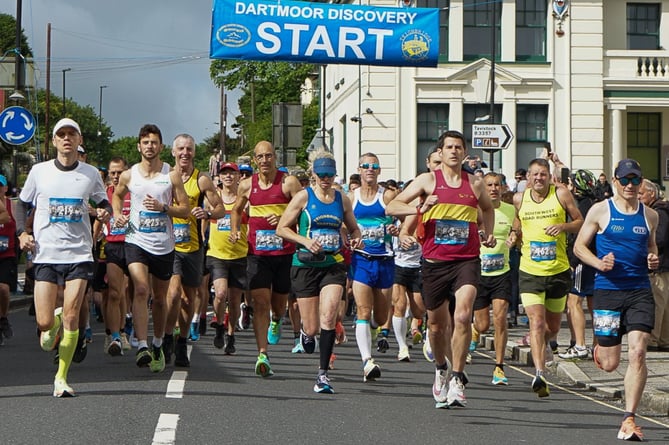 ON YOUR MARKS: Runners get underway in the Dartmoor Discovery.
( )
Subscribe newsletter
Subscribe to our email and get updates right in your inbox.
TEIGNBRIDGE Trotters' ultra running cult classic Dartmoor Discovery race took place last Saturday.
A total of 161 runners completed the epic 32-mile race under the six-and-a-half-hour cut-off time.
The event includes some of the toughest climbs the National Park has to offer and is the longest single lap road ultra-marathon in the UK.
The immaculately organised event attracted runners from across England, who gathered at the start and finish area of Princetown and faced a day of dry and sunny conditions.
There were two age group course records set in the course of the day. Steve Abell (South Molton Strugglers) set a new male over 55 best of 4:18:35, edging inside the previous best by 95 seconds, set 14 years prior as he finished ninth overall.
The women's over 60 record was also reset with Heather Khoshnevis (Bournemouth AC) clocking 5:28:29 to smash last year's best by nearly 43 minutes, as she placed 95th overall.
But at the head of the field, Ryan Snell (Romsey Road Runners) was the overall winner, breaking the tape in 3:46:27.
The first lady was Alice Smith (Weston Athletics Club), placing 14th overall in 04:23:41.
Dartmoor Discovery ever present Graham Baker of Mid Essex Casuals, extended his event finishes to 23, placing 124th in 06:04:20. In the team competitions, Okehampton Running Club's Paul Crease, Robert Kelly and Christopher Turner won the men's event and Cornwall Harriers' trio Di Roy, Sharon Daw and Cheryl Hanns were the ladies winners.
There were 13 Teignbridge Trotters who completed the course before the cut-off with James Long leading the home charge, placing 12th in 4:21:05.
The other Trotters collecting a precious finishers medal were... James Saunders (4:49:57, 28th and third M55), Lance Mason (5:08:41, 39th and third M60), Susanna Goffe (5:11:12, 41st and second senior lady), Richard Pratt (5:25:44, 60th), Alan Kember (5:32:26, 75th), Wendy Goldthorp (5:34:41, 77th, 2nd F50), Stephen Barker (5:47:45, 98th), Andrew Fox (5:52:28, 106th), Phil Smith (5:52:33, 107th), Debbie Proctor (5:53:33, 109th), Neil Rutley (5:56:27, 114th), Andrew Rattlidge (5:56:56, 116th), Phil Dunning (6:05:18, 125th) and Robert Faulkner (6:09:23, 126th).
Race director Liz Barnett was thrilled with another successful staging of the event.
She said: 'Huge congratulations to Ryan and Alice on triumphant performances and to everyone who completed the gruelling 32 miles. I have tremendous respect for anyone who takes on the challenge that the DD presents.
'As always, the event is a massive team effort, a team that I'm very honoured to be a part of. The DD also couldn't happen without the support of the local community in Princetown and the very generous support of our sponsors, Sibelco, The Ilsington Country House Hotel, M I Plant, J N Lark and Empire Scaffold.
'All in all, it's been another very successful staging of the UK's longest single lap road race and I look forward to next year's event.'
A final word to race winner Ryan Snell who was fulsome in his praise for the event.
'This race is the best I've ever done for so many reasons,' he said. 'The organisation is incredible with every detail thought about from registration through to the disco.
'To be basically waited on with all the food and drink you really want at the end of the race is brilliant.
'Your own drinks at super friendly drinks stations makes a massive difference and means you don't have to carry anything if you don't want to.
'The course is obviously stunning, totally brutal and a real test – anyone who can get round this is an awesome runner.'
Comments
To leave a comment you need to create an account. |
All comments 0