FOOTBALL teams in Teignbridge enjoyed plenty of success this season – so here's a round-up of our 2021/22 trophy winners...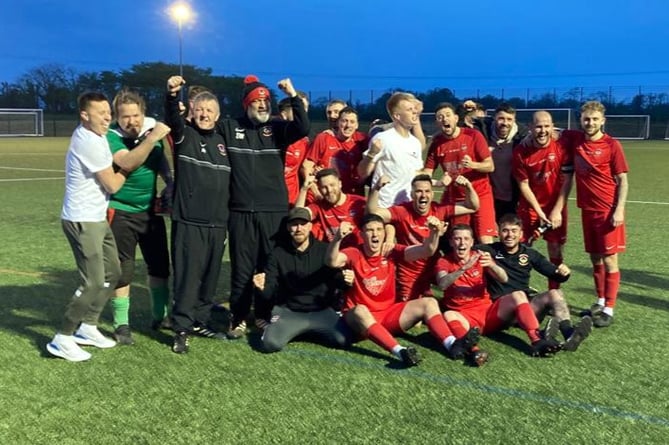 TROPHY #1: South Devon Football League Division One.
► SDFL DIVISION ONE, HERALD CUP, DEVON SENIOR CUP, DARTMOUTH CUP
MANAGER Steve Workman was left hailing his Kingsteignton Athletic 'quad squad' after they completed an astonishing quadruple.
The last South Devon Football League side to win all four trophies available to them were Watcombe Wanderers back in 2013/14.
And the Rams repeated that feat in emphatic fashion, losing only a single game in the league along the way.
The first piece of the puzzle was in place on May 9 when a 5-0 win at Paignton Saints Reserves wrapped-up the South Devon Football League Division One title.
Aaron Paget was the Rams' hero as they won trophy No.2 four days later on May 13. A late winner from substitute Paget saw off Plymouth side The Windmill in the final of the Herald Cup.
Kingsteignton had taken the lead from the spot through Sam Barnes before Windmill's Mike Neal cancelled that out with a penalty of his own. Paget won it in the 87th minute.
Back-to-back cup final duels with fellow Division One side Chudleigh Athletic would then follow – the first in the Devon Senior Cup on May 21.
After a goalless first half, substitute Ollie Kewell broke the deadlock and the win was secured by another Barnes penalty plus an injury time goal from Tom Reeves.
The Dartmouth Cup was the only one left needed to complete the box set – and Workman's side needed extra time to get the job done against Chudleigh this time.
Mark Voisey and Sam Barnes were cancelled out by Henry Buckpitt and Matt Williams in normal time – but Barnes struck twice more in the extra period to complete his hat-trick and the full set.
---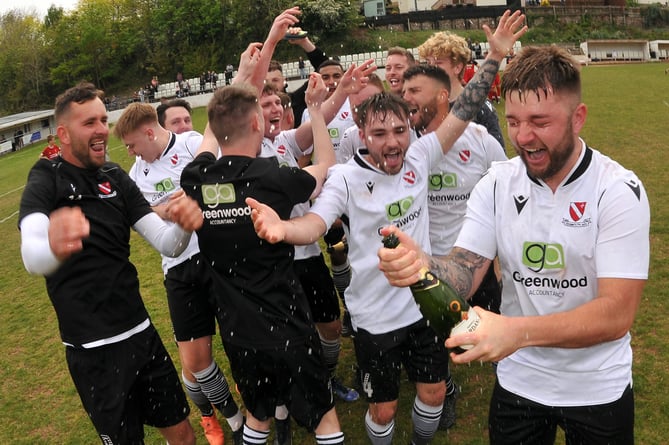 Celebrations at Coombe Valley after Teignmouth clinched the Devon Football League South & West title.
(Steve Pope/MDA)
► DFL SOUTH & WEST, D&EL DIVISION TWO
A LEAGUE title drought spanning 17 years was finally ended at Coombe Valley as Teignmouth won the Devon Football League South & West division.
An 8-1 final day drubbing of Plymstock United was enough to see the Teigns finish top of the standings by a point ahead of Plymouth-based Mount Gould.
'I'm ecstatic,' said Teigns boss Liam Jones after their trophy-clinching win. 'I think it's been long overdue. I'm always about the job in hand and the next game, but this is one you can really enjoy and soak up.
'The boys were outstanding today. It's been a long nine or 10 months but we've done it. We've got ourselves over the line.'
There was also success for Teignmouth Reserves as they pipped Winkleigh to the Devon & Exeter Football League Division Two title – losing only three matches, all away from home, in the process.
---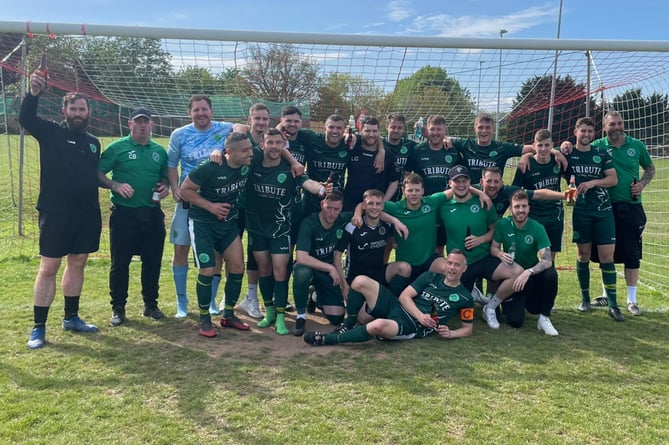 Celebrations at after Buckfastleigh Rangers clinched the South Devon Football League Premier Division title.
(Colin Barnard)
THE title fight went down to the very final games in the South Devon Football League Premier Division – and it was Buckfastleigh Rangers who held their nerve to claim the title.
A 3-1 win at Elburton Villa Reserves was enough to bring the trophy back to the Duckspond by a solitary point ahead of Brixham Reserves.
'It was really good,' said Rangers manager Barnard. 'It took a lot of hard work to get players in and committed but it was worth it.
'It was the first thing I've really won as an adult men's manager, too, so on a personal level the achievement was nice.'
Having been denied promotion to the Devon Football League due to a failed ground grading, Rangers will be back to defend their title next season.
---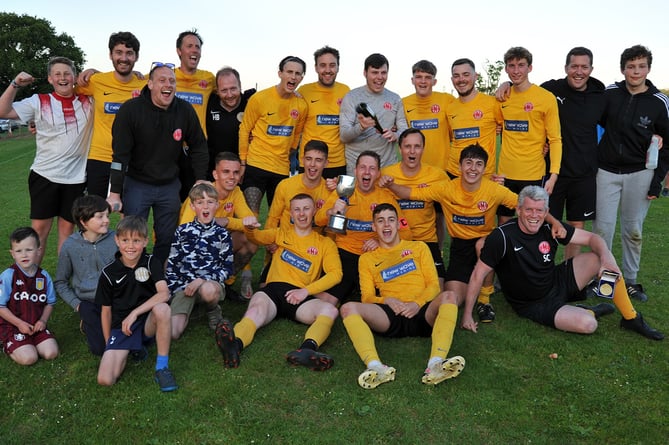 Celebrations at The Halford Ground after Ilsington Villa won the Lidstone Cup to complete a league and cup double.
(Ali MacPhee/MIRACLEPR)
► SDFL DIVISION TWO, LIDSTONE CUP
A SEASON without defeat meant that Ilsington Villa already had the South Devon Football League Division Two title in the bag before Friday night's Lidstone Cup final.
And a 4-1 win against Barton Athletic Reserves at The Halford Ground secured a league and cup double for a side which has really caught the eye this season.
Dan Langford's strike on Friday night saw him take his personal goal tally to 51 in 29 games – head and shoulders above everyone else in the entire South Devon Football League.
Bovey Tracey Reserves skipper Ali Chuchuk (45 from 24) was the only man who got vaguely close, while fellow Ilsington man Matt Warman (30 from 23) was seventh in the golden boot race.
His eye for goal helped Villa to a league points total of 60 (19 wins, three draws, no defeats) – six points ahead of their nearest challengers Torquay Town.
Ilsington's 114 league goals saw them finish as Division Two's top scoring side and the second-highest scorers in the entire SDFL – behind only Bovey Tracey Reserves (141).
---
Celebrations at Moor Road after Bovey Tracey Reserves clinched the Les Bishop Cup.
(Alan Craig)
DISAPPOINTMENT at missing out on the South Devon Football League Division Four title was quickly forgotten as Bovey Tracey Reserves won the Les Bishop Cup.
A 5-0 hammering of Brixham Town Reserves was enough to ensure that space would have to be made in the Mill Marsh Park trophy cabinet.
Sean Hawkins' young side enjoyed a successful season on the whole – missing out on the league trophy to Waldon Athletic Reserves by just two points.
'I think we felt that we deserved something from the season and football doesn't always give you what you deserve, as we perhaps found out with the league,' said Hawkins.