SPEED Watch teams clocked 24 drivers breaking the speed limits in Newton Abbot in one morning and a biker racing through at 71mph during another stint.
The number of drivers breaking the 30mph limit in Newton Abbot's Torquay Road were recorded during two 45-minute stints using a Speed Indicating Device.
One session was held outside 45 Torquay Road Newton Abbot (right hand lane heading into Town Pass the station) and the other outside 100 Torquay Road Newton Abbot (with traffic heading from Penn Inn towards East Street).
Their findings are recorded below: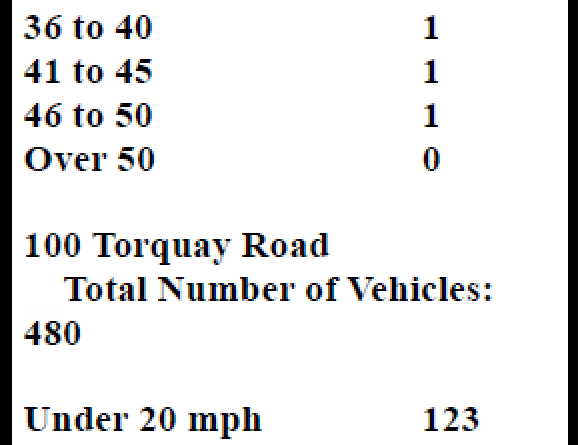 On Monday afternoon when the team were out in Shaldon Road they clocked four vehicles going 46 to 49mph, two going at 50 to 59mph and one biker hitting the 71mph – unfortunately they were unable to read the number plate.
Two people are being reported for verbal abuse.
Speed Watch co-ordinator Cllr Mike Joyce, the Newton Abbot Police Advocate and a town councillor, said there was no excuse for people speeding in Newton Abbot's busy streets.
'We are doing all we can to make the roads safer and are working with the police on this.
'We need more volunteers to help us encourage drivers to respect our town and the safety of its people by keeping to the speed limits.'
Cllr Joyce and the Community Speed Watch team were praised during his recent Police Advocate's interview with South Devon's new Police Commander, Chief Superintendent Roy Linden.
Asked how does the Chief Superintendent view Speed Watch? He replied: 'In essence Speed Watch groups have become an integral part of addressing the impact of speeding on our communities, reducing one of the fatal five (which refers to the five factors that are most associated with death and serious injuries on our road network).'
Chief Superintendent Linden stated that whenever and wherever possible, he will use resources to support Speed Watch during their sessions throughout South Devon.
l To find out how you could help take part in Speed Watch or for more information contact are [email protected] phone 07712668969