Police investigate ex-councillor story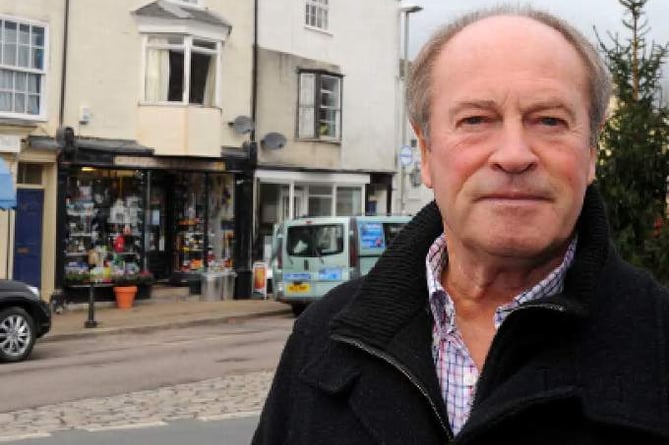 Subscribe newsletter
Subscribe to our email and get updates right in your inbox.
A FORMER Teignbridge district councillor is being investigated by police after a national newspaper reported that he confessed he 'helped his wife to die'.
The Sunday newspaper reported how Douglas Laing, 71, said he gave his terminally ill first wife, Christine, a fatal injection in 1998.
The former councillor for Chudleigh was later jailed in 2017 for attacking his second wife with a hammer at their home.
Laing, a former Army medic, is now being investigated by Devon and Cornwall police after he admitted giving his first wife, Christine, who was suffering from terminal ovarian cancer, a lethal combination of drugs 23 years ago.
In October last year, Laing told the national newspaper he would 'take whatever was coming'.
But in 2017, the former leading Tory, who held the post of executive member for economy, skills and tourism at Teignbridge District Council, was arrested for an attack on his estranged second wife Susan.
At the time of his arrest, he resigned and was later suspended from the Conservative Party.
He was sentenced to three years in prison for the attack.
The retired property developer, hit Susan around the head with a wooden mallet three times before calling police at their home in Chudleigh.
Exeter Crown Court heard he showed no emotion as he carried out the attack having drunk Tia Maria and brandy.
Mrs Laing escaped to a neighbour's home and said in a victim statement later: 'I still suffer flashbacks and see his expressionless face as he hit me.'
Initially arrested for attempted murder, which he denied, he admitted wounding with intent to cause grievous bodily harm.
Council colleagues at the time were shocked at his actions which were described as 'totally out of character'.
Police are now looking into the circumstances surrounding the death of his first wife after he recounted details of injecting her when she told him she was 'ready to die' after her cancer became too much to bear.
Now released from prison, he said: 'I'm in tears as I recall that conversation and I have struggled with what I did and only recently spoken to close family about it.
'I wanted to make my actions public knowledge in support of the move to legalise assisted dying.
'Taking the brave decision she did allowed my wife to say goodbye to our two sons while she was able to, then she was gone.'
He said he was aware of the consequences of what he has said.
Since the revelations, he has declined to comment and asked for privacy for his family.
A former combat medic for the Royal Army Medical Corps, he met his first wife in 1968 when she was student nurse at a military hospital in London.
Devon and Cornwall Police has since been in touch with the newspaper requesting material the paper held relating to the case, which was declined.
Laing had been supported by Dignity in Dying, a campaign set up to change the law on assisted suicides.
But in its latest statement Sarah Wootton, chief executive, said: 'Dignity in Dying will not be commenting further on this case while police investigations are ongoing.
'We campaign for a change in the law to permit terminally ill, mentally competent individuals the choice of an assisted death under strict safeguards and alongside existing end-of-life care options, overseen by medical professionals and with judicial oversight.
'This would provide far greater protection, transparency and accountability than the present system.'
Devon and Cornwall Police said in a statement: 'Devon and Cornwall Police have launched a homicide investigation in relation to the death of a woman in Devon in the 1990s.
'Enquiries remain ongoing in relation to this matter.'