TWENTY-FIVE riders from Decoy BMX Club made the journey to the capital last weekend for rounds seven and eight of the BMX National Series 2022 – and several pedalled their way to podium posititons.
The event, which saw more than 120 riders from across the country amass in Peckham's Burguss Park, was the latest action from the ongoing BMX National Series 2022.
Many riders from Decoy BMX Club, a non-profit, volunteer-run club based in Newton Abbot, were present and itching to give it their all and progress up the points table.
Of the riders hailing from Decoy BMX Club, the youngest of whom was six-year-old Lauren Snell, eight made finals on the first day of racing whereas 10 made a finals on the second day – 10-year-old Thomas Honeywell made his first finals over the weekend, placing sixth in the Male Ten catergory of round eight of the series on Sunday.
A number of riders achieved a podium position across the two day event also.
Twenty-two-year-old Eddie Moore, who rides for Decoy BMX Club, rubbed shoulders with Kye White the Olympic silver medalist, who placed first in Saturday's Superclass Men race: Eddie was hot on his heels with a second place finish.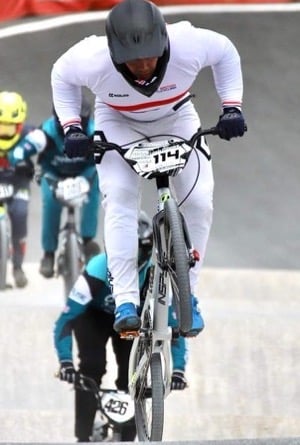 Eddie Moore
(Contributed by Gideon Jones)
It was Eddie's time to shine the following day, however, placing first in the Superclass Men race and netting himelf 112 points in the process.
Although crashing on Saturday's race, Max Avery came back with a vengeance the following day with an impressive second place finish in the Male 17-18 catergory.
Henry Eyre made the podium on two occasions: third on Saturday and first on Sunday respectively – his first national win.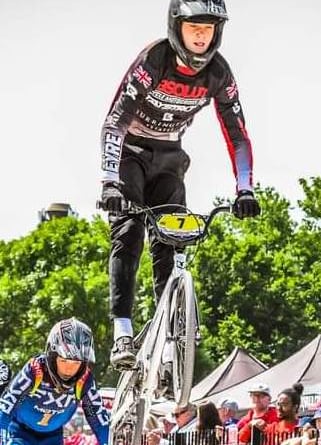 (Contributed by Suzan McHugh)
The nine to 12 Crusier race of round eight saw Olly Kirby push past rivals from Manchester BMX Club and Gosport BMX Club to finish second, earning him an addtional 90 points to add to his total.
Another rider who frequents the BMX track at Decoy, which was built in 1998, was Coby Wrayford who rode his way to second place in Sunday's Male 11 race.
Five females made up the 25 strong contingent of Decoy riders, chief among them was 16-year-old Sophie-May Harris who placed second in Sundays Female 16 race.
It should be noted that two riders representing Decoy, Bradley James and Ned Guppy, narrowly missed out on podium positions in spite of  a pair of stellar performances.
Bradley placed fourth in the Male 12 category in round seven and Ned placed fourth in the Male 11 category in round eight.