Wellbeingcentre
Friday 6th May 2022 6:00 am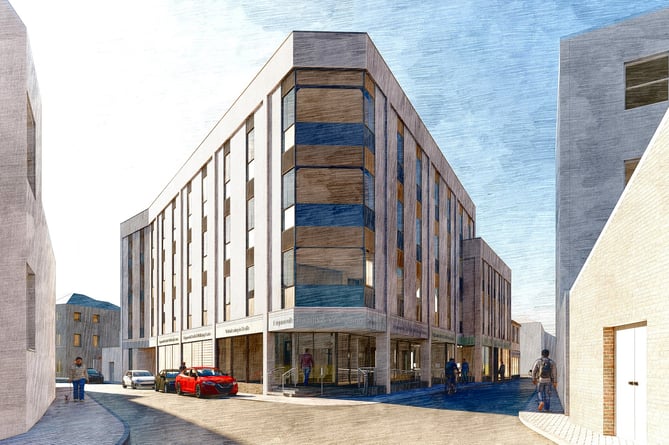 Cllr Richard Keeling.
Subscribe newsletter
Subscribe to our email and get updates right in your inbox.
COUNCILLORS have approved the sale of land in Teignmouth town centre to the NHS to build a new health and well being centre.
Members of Teignbridge Council's full council voted in favour of selling the site at Brunswick Street following negotiations between council officers and the NHS.
Financial details of the deal are confidential but a previous offer from the NHS for £600,000 was rejected by the council.
A bid to delay a decision to ask the NHS for other options was rejected and members were told there were no other alternative sites.
Cllr Richard Keeling, executive member for property and assets, told members that the town centre site had been identified for regeneration but hotel chain Premier Inn, which had been earmarked for the land, had previously pulled out.
Teignbridge Council had considered a number of options but currently the site is 'underused and partly derelict'.
Cllr Keeling, who stressed the new centre was not connected with Teignmouth Hospital which is to close, said: 'Since then, the council has been working with the NHS.
'It has previously submitted an application on a different part of the site but this is a revised plan which allows for a better layout.'
He said the proposal would enable the local community to access a range of services to meet healthcare needs.
He added: 'This is a positive collaboration with the NHS to provide a modern and accessible healthcare hub.'
Some councillors expressed concerns about parking as some spaces will be lost on the Brunswick Street site.
More spaces have been created at Eastcliff car park with a net gain of 10 spaces.
Cllr David Cox, member for Teignmouth, said the 'old fashioned' model of GP surgeries was no longer wanted but this was a new system which would work.
He said: 'If we don't do this, we could end up with something worse and a health and well being centre in the town centre will bring more people into town so there is no threat to traders.'
He pointed out that existing surgeries were mainly in former hotels and old buildings.
'This is a matter of selling a piece of real estate which we are right to do.
'We should support this in the interests of the people of Teignmouth.'
Fellow Teignmouth councillor Jacqui Orme said the NHS had made it clear this was the site they wanted 'and for good reason'.
Surgeries were not fit for purpose, she explained, not suited to people with disabilities and something more accessible was needed.
However, Cllr Chris Clarance called for extra time to consider alternative options and asked what alternatives there might be if the council decided not to sell.
He said: 'I am totally opposed. Despite what's been said, this puts the final nail in the coffin of Teignmouth Hospital.
'We are being rather held to ransom.'
He also pointed out that the replacement car parking spaces were far out of town.
Teignbridge Council's managing director Phil Shears told members that the NHS had wanted a decision in February but officers and that when an offer of £600,000 was made for the Brunswick Street site 'we said no'.
But he also pointed out: 'From my experience, there is no Plan B, either we sell this site or there won't be a health centre.'
Council leader Alan Connett praised the 'courage and bravery' of those who tried to save Teignmouth Hospital who were 'desperately disappointed' by the final decision to close it.
But he said the health centre was a different matter.
He said: 'My fear is that the hospital will close without any other facilities but in the meantime, patients will have to go elsewhere for treatment to Torquay or Newton Abbot.
'When Premier Inn pulled out, the NHS said they could do something bigger and better for the people of Teignmouth and it's up to us to deliver what they want to do.
'If there were an alternative, the NHS would have found it and this is the only site they want to pursue and can deliver.'
Cllr Keeling agreed there was no other site the NHS could consider which would be large enough.
He said: 'The officers have got the best deal for taxpayers.'
Cllr Sarah Parker-Khan explained that there had been anxiety when the hospital in her ward shut but the reality was the services were much better.
She said: 'I would rather this was sold to the NHS than a conglomerate like Premier Inn.'
Cllr Phil Bullivant said the council should be '100 per cent behind this'.
Cllr Robert Phipps was also concerned about parking and a detriment to traders and referred to a 'quite heated debate' during a closed session of the meeting to discuss confidential issues.
Comments
To leave a comment you need to create an account. |
All comments 0