Farewell to Bob, the builder's mate
Thursday 23rd June 2022 10:00 am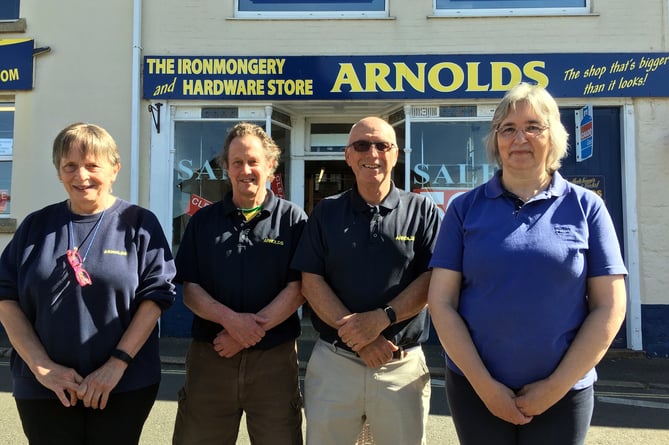 caption in here...
Subscribe newsletter
Subscribe to our email and get updates right in your inbox.
A SHOP which has been the first and last port of call for many DIYers is closing after nearly 40 years.
Arnold's at the top of the town in Mary Street, Bovey Tracey, will be shutting its doors tomorrow, Friday June 24 after 37 years.
Owner Bob Arnold has taken the decision to retire after a significant fall in takings, blamed in part on internet shopping.
'It's a tough decision but the time was right,' he said.
Bob has a life in retail construction having been a manager at the Torquay branch of Great Mills DIY and then as a salesman.
And it was while he was a salesman he came across the Bovey shop which would be his own business.
'I called in just two weeks after it had opened,' he explained.
'It wasn't like it is now. It was just laid out with trestle tables. The owner's wife wasn't happy with it so they offered it to me to buy the business. So I took it on!'
In the intervening years Bob and his staff of three have been selling nuts and bolts by the pound, fork handles, plugs (electric and bath), foot pumps and hose, along with every tool you could put a name to.
It's been offering good, old fashioned service all these years and it will be sorely missed.
The business, touted as 'the shop that's bigger than it looks' even had its own shop within a shop, selling all manner of kitchen ware you could ever need.
Bob and his team – Sally, Nick and Carol – provided home deliveries, a timber sheet cutting service, sawing the wood to exact dimensions, and offering a measure of sage advice when needed – a service this writer has called upon more than once.
Moretonhampstead-born Bob went on to open a second shop in his home town, and when that closed in 2016 he was able to concentrate on the Bovey business.
The Mary Street premises have been sold subject to contract, but it's not known what will become of them.
In the meantime Bob, who lives in Lustleigh, will enjoy his retirement.
When asked about his own handyman skills he modestly said: 'No, I'm no good at DIY… well I'm alright I suppose! I do like fixing things.'