FIREFIGHTERS from Newton Abbot assisted in rescuing a driver trapped in their vehicle following a collision off the A380 at Kingsteignton last night (Friday, December 2).
Along with the Heavy Rescue Vehicle from Middlemoor and an appliance from Torquay fire station, crews were mobilised following reports of a single vehicle incident on the slip road approaching the Ware Barton roundabout.
On arriving at the scene the crews discovered that a blue BMW had left the roadway, slid across the grass verge, passed through a fence and ended up in a domestic garden with the car partially on its side.
The driver was pinned in the car and as a result of their injuries the decision was made that they would have to be extricated from the car.
'While the ambulance service tended to the care of the casualty, fire crews started to secure the vehicle to ensure any uncontrolled movement would be eliminated,' said a spokesperson for Devon and Somerset Fire and Rescue Service.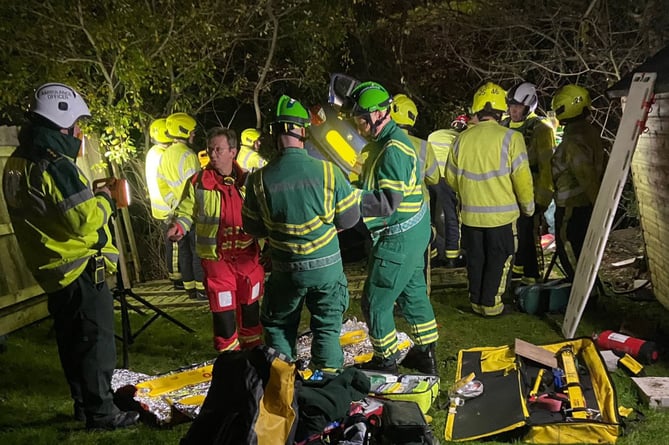 Fire and ambulance cress at the scene of last night's road traffic collision in Kingsteignton. ©NewtonAbbotFireStation
(©NewtonAbbotFireStation)
'Crews utilised both the V-struts off our appliances, as well as the Stabfast struts off the Heavy Rescue Vehicle to achieve this. Once the vehicle was stable, crews utilised battery powered spreading equipment in order to remove the rear door and the 'B post' was then cut away to allow as much space as possible.
'Crews worked under the direction of the ambulance service to safely remove the casualty.'
All emergency services on the scene worked closely together and showed a strong understanding of each others roles which allowed everyone to work towards achieving the best outcome for the casualty.
Everyone at Newton Abbot fire station would like to wish the occupant all the best and a speedy recovery.