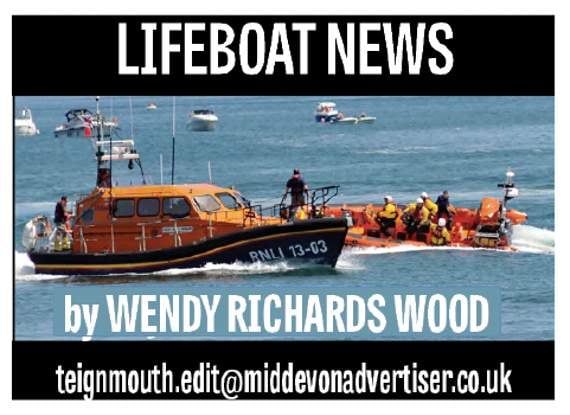 Subscribe newsletter
Subscribe to our email and get updates right in your inbox.
Will Burton, Senior Helm at the RNLI Teignmouth who was recently recognised for his 30 years' service with the RNLI, and Claire Twitchin have donated £2,500 to the RNLI Teignmouth.
This was after they raised £5,000 by organising a fundraising raffle.. The other £2,500 is going to the Fisherman's Mission. What a fantastic contribution to our fundraising effort!
The Teignmouth RNLI Where's Welly town Treasure Hunt is taking place throughout the whole of August.
See if you can spot the yellow wellies hidden around the town.
Maps and questionnaires are available from the RNLI Boathouse, Dart and Partners Estate Agents, Laura Wall Gallery and the Teign Heritage Centre, for a suggested donation of £5 with a goodie bag included for the youngsters.
All proceeds go to the RNLI Teignmouth and the whole of Teignmouth is getting involved, so it should be really good fun.
For your diary, future RNLI fundraising events include:
August 7: The Lawns Dawlish Charity Day stalls
August 21: The Den Teignmouth Charity Day stalls
September 5: Jason's garden- beautiful memorial garden in Teignmouth, RNLI Souvenir stall and Teas/coffees and cakes. Admission £4, all monies to the RNLI.
September 11: RNLI coffee morning, stalls plus teas and cakes
September 12: Ugbrooke Park, Chudleigh, stalls, music, Morris dancing, classic cars
September 18: The Den, Teignmouth Charity Day stalls
September 25: Boat Jumble Sale, Newton Abbot racecourse - donations welcome contact Nikki on 07970 076444 or Lisa on 07979 937404.
Our volunteer Lifeboat crew and Lifeguards are having a particularly busy time this summer with so many people taking to the water, so please show your support and come along to these vital fundraising events.
The eagle-eyed among you may have noticed that our Lifeboat 'The Two Annes' is currently on a mooring in the harbour instead of the Boathouse, this is because the erosion of sand at the foot of the slipway has produced a steep step, which makes normal launch and recovery problematic, and 24-hour availability is essential.
Sadly, this means viewing of the Lifeboat at the Boathouse is not currently possible.